Fremont's busy mall could house hundreds of new homes
A large mall in Fremont could undergo major changes if the mall owner gets city approval. The owners of the Fremont Hub mall, which is home to Target, CVS, Trader Joe's, Ross and more than two dozen other retailers, wants to demolish part of the mall and replace it with housing, a parking lot and a new commercial building. The busy outdoor mall sits at the busy intersection of Fremont Boulevard and Mowry Avenue and is owned by a real estate investment firm Kimco Realty Corporation.
Fremont Hub shopping center. | Map courtesy of Kimco Realty
If all goes according to plan, Kimco would demolish a large section at the northeast corner of the mall that measures 70,000 square feet. In its place, Kimco would add "314 apartments, 27,000 square feet of new commercial space and a 442-space parking lot," according to an application submitted to the city of Fremont obtained by the San Francisco Business Times. The building that would be demolished currently houses a CVS store, a Staples store, and a few other small retailers and restaurants.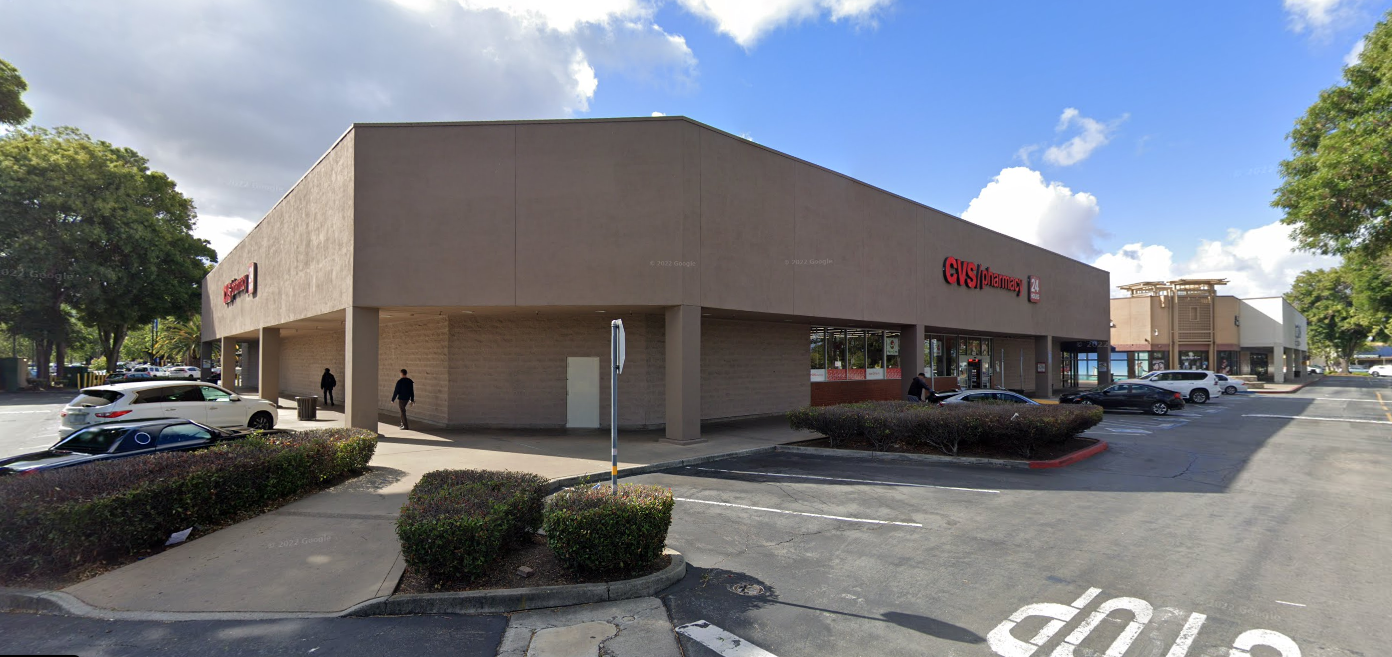 The CVS store to be demolished. | Photo credit: Google Maps
Kimco wishes to carry out the construction work in two phases. The first phase would center on the construction of a new building of approximately 13,000 square feet. CVS would move its operations to this building. Once this move is complete, Kimco would begin phase two which would be the demolition of the existing 70,000 square foot building and the elevation of a new seven story apartment structure which would include just over 14,000 square feet of retail space on the ground floor. The second phase would also include the completion of the associated parking garage.

Section selected for demolition. | Photo credit: Google Maps
Plans to revamp the Fremont Hub were launched by Kimco in 2018, but the original plans included an underground parking lot that could accommodate more than 700 cars. According to Kimco's website, the mall already has 2,665 surface parking spaces to accommodate its 504,000 square feet of retail space. Kimco is also actively seeking new retailers. The SF Business Times reports that the Fremont Hub currently has a vacancy rate of 21.6%. Before the pandemic, this rate was only 7.3%. The rental page on the mall's website shows that the mall has 19 empty retail spaces, ranging from 39,000 square feet to 445 square feet.
Current renovation plans were submitted to the City of Fremont on June 16 and still have a long way to go. So far, no timeline has been released for possible city approval.