Gazelle Sports Announces Upcoming Website Branding and UX Refresh with CQL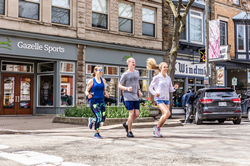 With so many brands in the fitness industry, CQL understands our business, our vision and our challenges, and will support us as we continue to expand and grow. – Ethan Treber, Head of E-Commerce at Gazelle Sports

GRAND RAPIDS, Mich. (PRWEB)
September 20, 2022
Gazelle Sports, the Michigan-based running specialty store and sports lifestyle and fitness retailer with multiple Michigan outlets, announced a long-term partnership with digital agency CQL to refresh and modernize the Gazelle Sports website, gazellesports.com. The new website, planned for the first quarter of 2023 and remaining on the Shopify Plus commerce platform, will lay the foundation for continued growth for Gazelle Sports with a new customer journey, simplified site navigation and taxonomy, improved products (PDP) and optimized site performance. .
CQL will bring Gazelle Sports' new brand to life with a unique shopping experience based on Propel, CQL's exclusive Shopify Plus theme. By leveraging Propel, CQL can focus more on the new design, messaging and user experience of Gazelle Sports, and less on development. Upgrading to a Shopify 2.0 theme will provide a state-of-the-art user experience; optimize site performance, improve navigation, taxonomy, content structure and search using Searchspring; and ensuring operational efficiency.
"It was essential for Gazelle Sports to support our community by finding a local Michigan agency and establishing a long-term partnership. Our team is impressed with the depth of the CQL experience, from the great discussions during discovery to the transparency of the site improvement process. With a large number of brands in the fitness industry, CQL understands our business, our vision and our challenges, and will support us as we continue to expand and grow," said Ethan Treber, Head of E-Commerce at Gazelle Sports.
Scott Robertson, Managing Director of CQL, knows that when it comes to buying shoes online, a customer's user experience is not unique. "By partnering with dozens of leading corporate apparel and footwear brands, CQL is privileged to provide Gazelle Sports with industry best practice recommendations to improve its customer journey and elevate its brand. we understand business goals and user journey vision, we can overcome Shopify challenges such as 100 variation limits, enabling new possibilities on existing commerce platforms that deliver great user experiences and drive conversions.
About Gazelle Sports

At Gazelle Sports, we actively pursue, promote and celebrate a healthy lifestyle. We strive for excellence in retail by providing the best customer service in the world, focusing on an unending commitment to unparalleled product knowledge, and creating friendly, positive relationships with customers, suppliers and our communities. We're Michigan-based, locally owned and operated, and proud to be born and raised in the Mitten. Our mission is to pursue, encourage and celebrate healthy lifestyles here in our local communities and beyond. For more information, visit gazellesports.com.
About CQL Corp.

CQL is a digital commerce agency with over 27 years of experience creating commerce experiences and solutions to inspire brands and the people who love them. CQL's unparalleled technical expertise and design experience, combined with cutting-edge e-commerce platforms, have helped retailers and manufacturers generate record online revenues, create new channels and envision ideas that change the world. Based in Grand Rapids, Michigan, our customers include Petsmart, elf Cosmetics, Wolverine Worldwide, Bauer Hockey, James Avery Artisan Jewelry, Stride Rite, Escalade Sports, Costa Del Mar and more. For more information, call 616-365-1000 or visit CQLCorp.com.
About Shopify Plus

Shopify is a leading provider of business-critical Internet infrastructure, offering trusted tools to start, grow, market, and manage a retail business of any size. Shopify improves commerce for everyone with a platform and services built for reliability, while delivering a better shopping experience for consumers around the world. Proudly founded in Ottawa, Shopify powers over 1.7 million businesses in over 175 countries and is trusted by brands like Allbirds, Gymshark, Heinz, Staples Canada and many more. For more information, visit shopify.com.
About Searchspring

Searchspring offers the ultimate shopping experience. As the #1 search, merchandising and personalization platform built exclusively for e-commerce, Searchspring empowers brands to deliver the right product, to the right person, at the right time. With Searchspring, customers such as Chubbies, Pura Vida, Moen, Fabletics, Peet's Coffee, SKIMS, West Elm, Specialized, Wildfang and Ripcurl increase basket size, conversion and repeat customers. Founded in 2007, Searchspring has offices in San Antonio, Denver, Toronto, Krakow and Sydney. Find out how Searchspring helps e-commerce businesses thrive on searchspring.com.
Share the article on social networks or by e-mail: