Images: Luxury apartments replacing the Roswell Strip mall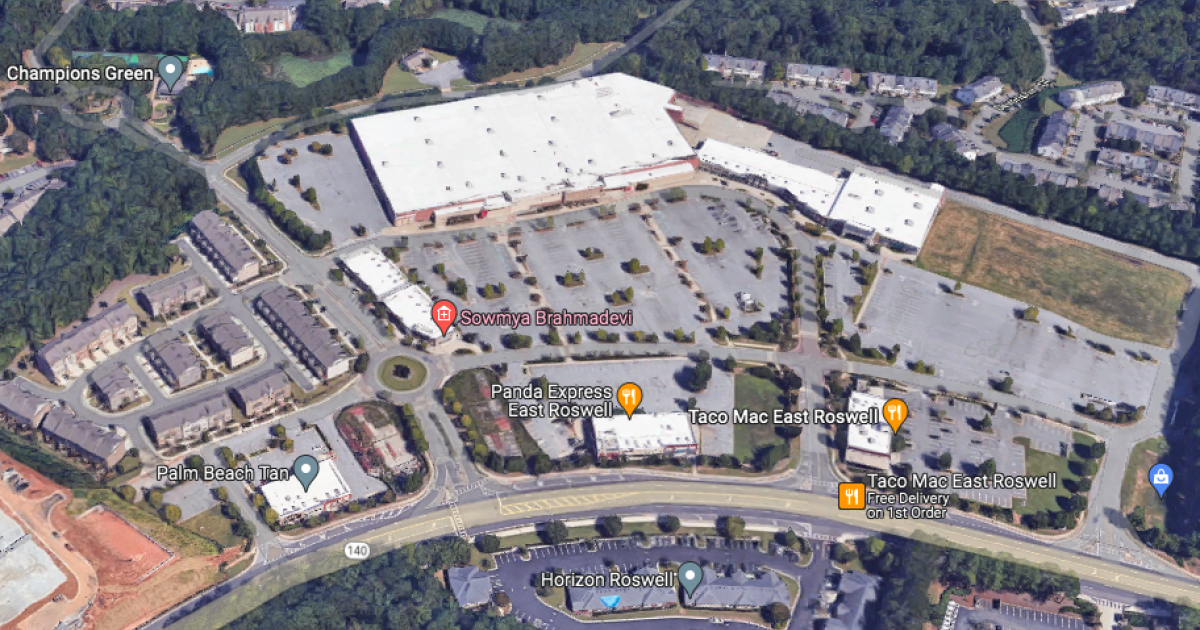 The city of Roswell in northern Fulton County has recently made headlines (including national ones) for its legislation to limit and now to forbid construction of self-contained apartment communities. It's an effort to encourage more mixed-use development (and limit growth) despite concerns about the lack of affordable housing in the area.
Nonetheless, an apartment community in East Roswell is progressing with over 300 units, with the mixed-use component expected to come later.
The $101 million Averly East Village project, a joint venture between ECI Group and Phoenix Capital, will replace a vacant mall at 2640 Holcomb Bridge Road. Demolition has begun at the mall that once housed a Super Target, Marshalls, Rack Room Shoes, Dollar Tree and other retailers, according to project officials.
The central green space of the project will be accessible to the public, according to the developers. Noland Creative; Courtesy of ECI Group
The site is located east of Ga. Highway 400 within the city limits of Roswell, approximately five miles southeast of historic downtown Roswell. The Gwinnett County line is just east of the site.
Designed by architects Rule Joy Trammell Rubio, Averly East Village offers 335 luxury one-, two- and three-bedroom apartments with interiors, architecture and landscaping that the ECI Group describes as "resort quality".
Developers say it will be part of a larger mixed-use project called East Village that looks more attractive than a nondescript commercial node. Plans call for 74 townhouses and 75,000 square feet of retail space arranged around a central publicly accessible green space with a pavilion.
Averly East Village amenities require an outdoor gym (and one indoor), a pool deck with cabanas, two outdoor kitchens, a cafe-style coffee lounge with WFH areas, a dog spa, and a park , among other benefits.
Jimmy Baugnon, chief investment officer of ECI Group, said Averly East Village will help address the housing shortage in Atlanta's northern suburbs which "is experiencing explosive growth in jobs and residents," according to a press release. .
Company development director Joe Miller said live work units will be included in the multi-family mix to help integrate the project with nearby retail businesses, while the central green is designed to be a focal point for East Roswell. Andrew Scott of Phoenix Capital acknowledged that "opportunities in Roswell are rare", making the project "particularly exciting".
Averly East Village is set to open in late 2024. Head to the gallery above for more background and renders.
• Renderings: Historic Roswell lands in an upscale boutique hotel (Urbanize Atlanta)