Ironwood Mall Hosts Minden's First National Night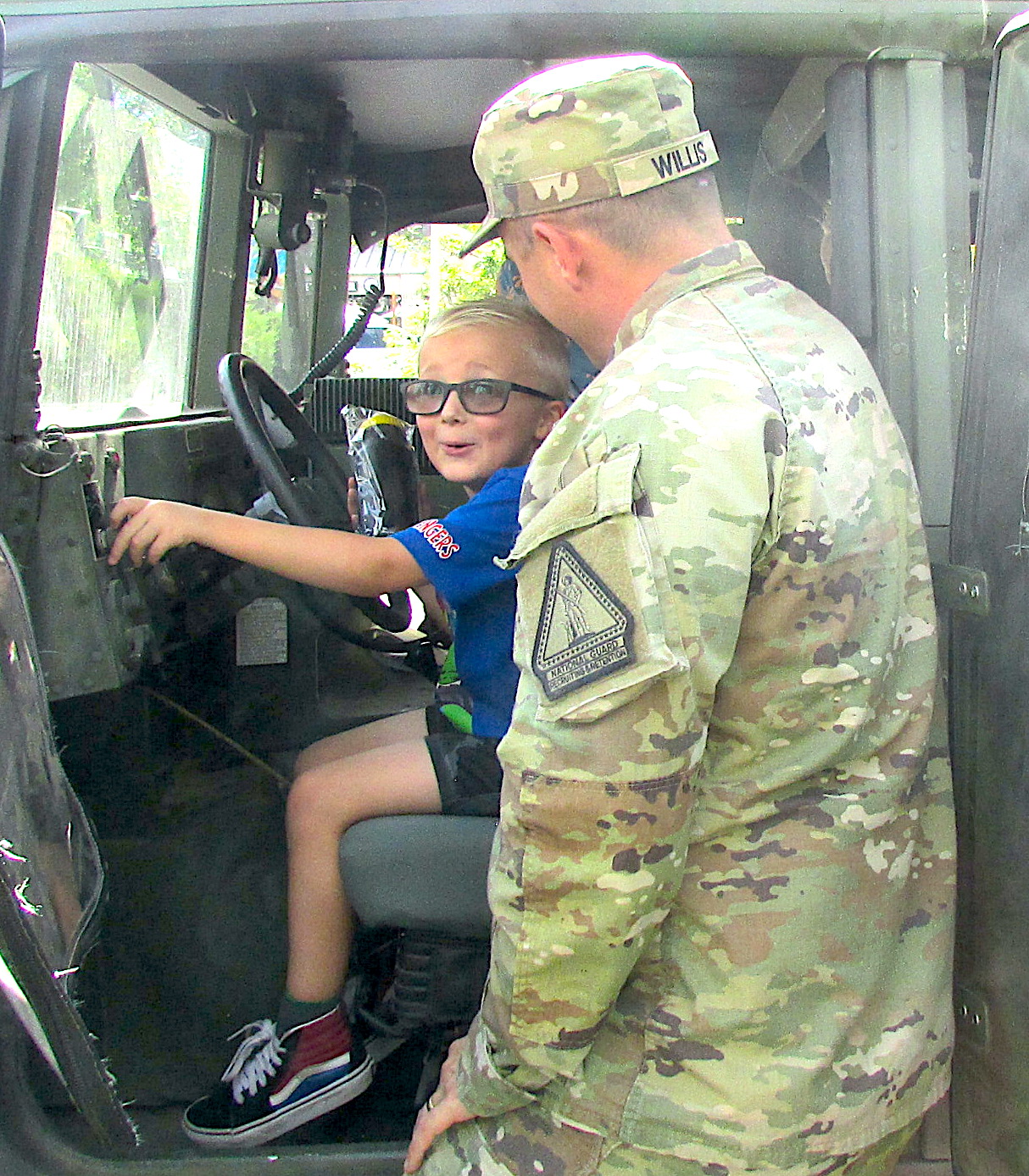 Nevada National Guard Staff Sgt. First Class Gary Willis shows 5-year-old Jameson Tillemans how to light a Humvee on National Night Out
Photo by Sarah Drinkwine.
A national event aimed at improving community relations was celebrated for the first time in Minden at the Ironwood Mall on Tuesday.
National Night Out encourages neighbors, businesses and law enforcement to come together in a positive setting to build relationships in the community, said Ironwood 8 Cinema owner Russ Levison, who spearheaded the idea .
Levison said he first heard about the event when he was living in New York and thought it was a good way for local businesses to meet and interact with the community.
"We just realized we have this big space in front of the theater and it felt like a good way to mark it here and bring the community together," Levinson said.
Levison chatted with the other local businesses, and Jonelle Spaffrod, manager of Two Stone Slab & Tile, pitched the idea and organized the entire event.
"Russel came up to me and said we had to do something, we talked about what he was doing in New York and the National Night Out and I ran with it," Spafford said. "I started calling to get other companies involved and everyone was super excited to be a part of it."
Tuesday's event was hosted by Reno musician Greg Gilmore, food trucks including Kitchen 1851, CV Flyte, NV DST Pizza, Starbucks Coffee and Grandpa Archie's Icecream. The Ironwood 8 Theater offered free popcorn and a movie screening while the Douglas County Sheriff's Department and Nevada National Guard showcased their patrol cruisers, military trucks and Humvees.
"We are here to share the benefits of the National Guard with anyone who wants to join and share what we do for the community because that is what we serve," Nevada National Guard SFC said. Gary Willis.
Two Stone Tile & Slab held face painting, character designs and a raffle to benefit Douglas County Animal Services, while All About Dance featured poses on a Lyra ring.
The Douglas County Library book mobile was parked in front of Carson Valley Kids and the other businesses and restaurants in the area provided shade and more food and drink options.
Event visitors seemed happy to interact with all the different vendor options and services involved in the event.
"It's a great opportunity for us to get involved in the community, it's not often we get to interact with people in a positive setting, it gives us that chance," the sheriff said. of Douglas County, Dan Coverley. "It's a great event to bring the community together and it looks like the organizers have done a great job of doing that."
According to the National Night Out website, the annual event takes place on the first Tuesday in August and is a community-building campaign that promotes partnerships in a community between police departments, businesses and neighbors. Communities in all fifty states have their own versions of National Night Out.
"He seems to have had real positive interest here and we're hoping to bring him back," Levinson said.